What is changing?
Mailsac will no longer act as a mail transfer agent using the top level domain mail server mailsac.com. That means mail sent to the mail server mailsac.com on port 25 will no longer be accepted.
This change will go into effect on October 9th 2021.
Am I affected?
Almost certainly not. This is a legacy configuration that has not been published or referenced in any communication for several years. Our logs indicate this feature has not been used as far back as logs are stored.
Customers who setup a custom domain are sent instructions to use the mail servers in.mailsac.com and alt.mailsac.com during the initial configuration of their domain.
Instructions on our website for custom domains or the free hosting option instruct customers to use in.mailsac.com and alt.mailsac.com for their MX records. This has been the case for several years.
Why is this being deprecated?
Receiving mail using a mail transfer agent on the top level domain limits our ability to further scale our highly available mail services.
How can I verify I am not affected?
The DNS verification section of the docs can walk you through the process.
For those familiar with MX records, se the command line tool dig or a web based dig tool to verify your MX records are in.mailsac.com and alt.mailsac.com. If your MX records point to mailsac.com you will need to update them to use in.mailsac.com and alt.mailsac.com
dig example
Use the dig comand dig MX <domain_name> to view the MX records for a domain. In the answer section the hostnames in.mailsac.com and alt.mailsac.com should be listed.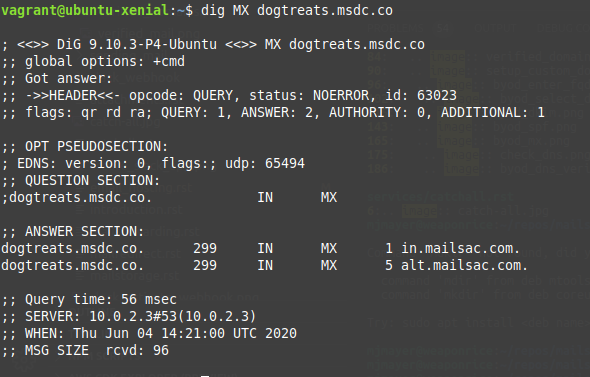 Web based dig
The web based dig tool can be used to verify MX records for a domain. The MX records should show in.mailsac.com and alt.mailsac.com